Nav
A navigational aid viewer, map generator, and flight planner for Microsoft Flight Simulator
Nav is a free Microsoft Flight Simulator compatible scenery file (BGL) viewer and flight planner.

Nav will show (and print) a map of all the navigational aids, runways and airports in your scenery files, let you measure distances between places, search the files for specific items, and create a flight plan showing navigational aid frequency, distance, fuel, and estimated time between references points.

Nav also draws maps to help put the navigational aids in perspective, and can link to Flight Simulator to provide a real-time moving map display so that you never get lost. Other link options can move your plane instantly to any spot on the map, set the Flight Simulator autopilot to fly to a selected spot, or set the autopilot to follow your flight plan.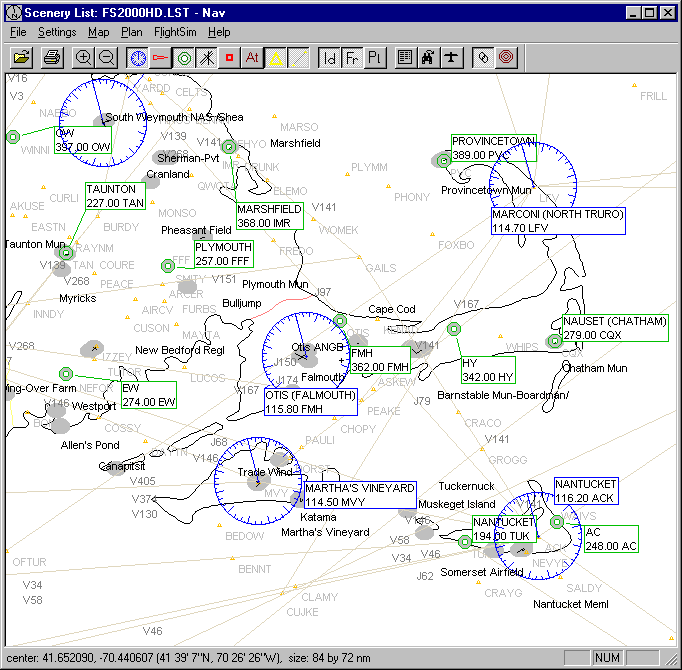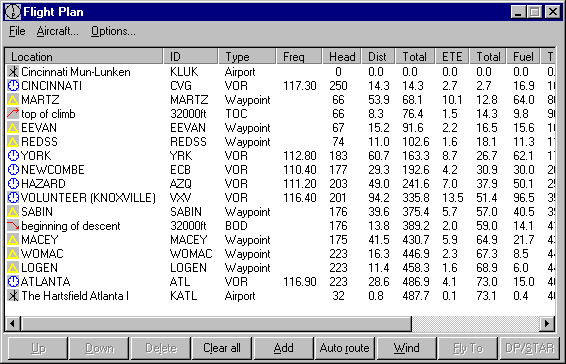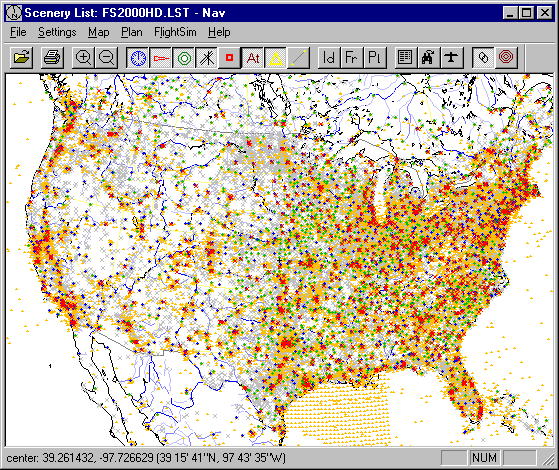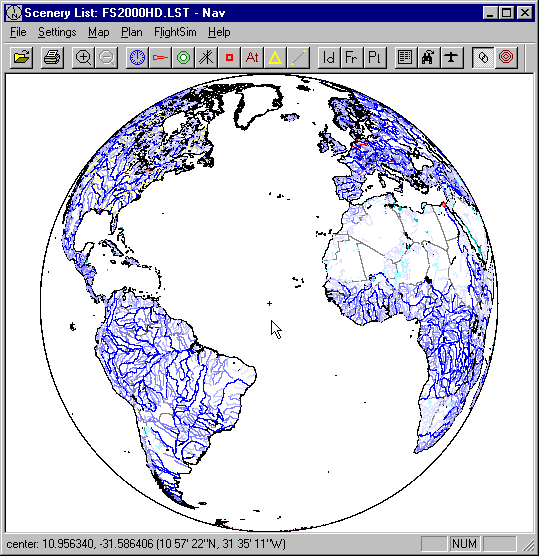 ---
New features of version 3.0
Flight Simulator 2000 scenery, waypoint, route, and flight planner support
Waypoints, routes, and airport ICAO codes for FS98 and earlier
DP and STAR support, with a 550 airport database
Radar Contact, Squawk Box FMS, Super Flight Planner, ACS GPS support
Detailed "Fancy Map" set available
Moving map network support
---
News
January 26, 2004 - One of the consequences of reverting back was the loss of the FSUIPC accreditation feature. Pete Dowson has graciously sent me an FSUIPC key for the older versions of Nav (including the current version available from here). To install the key, open the FSUIPC menu in Flight Simulator, press the "register an application program" button, enter Nav as the program name, and enter KZFTBWYVA10W as the key.
October 22, 2003 - I've reverted back to an older version of Nav31beta due to bugs and general uselessness of the FS2004 modifications I made. Proper FS2004 support wil have to wait until the new BGL file format is decoded. Please disregard this old news: Added partial support for FS2004. I have updated the default directories for flight plans and I have an "accredited" FSUIPC interface in place. Unfortunately, Microsoft has apparently changed the BGL file format for FS2004, and I have not yet been able to figure out how to modify Nav to read them. However, you can currently use an old scenery list from FS2002 with Nav and FS2004.

Additional New Zealand routes and waypoints are now available.
The Nav Tutorial link is now fixed. Check it out if you are having problems getting Nav set up.
The recent Nav 3.1 pre-releases should now have have full support for FS2002. In order to support FS2002, I have switched from using fs6ipc.dll to using Peter Dowson's fsuipc.dll. I've included a version of fsuipc.dll in the pre-release package as a convenience, but please get the latest version (it's updated often) and its associated documentation from: http://www.schiratti.com/dowson.html.
I've fixed a few bugs since the Nav 3.0 release. If you have a problem with Nav crashing, you might want to try the Nav 3.1 pre-release version (last update August 10, 2003). This is a new executable only, so you need all the files in the Nav 3.0 distribution, then you need to replace 'Nav.exe' with the new version.
I've created a new DP/STAR database (last update September 2, 2000) that is newer than the one that comes with the Nav 3.0 release. This one is based on FAA data and user contributions, and should be complete for the USA. It now includes 690 airports. To install it, just replace the 'dpstar.xml' file with this new version.
---
Downloading
The current version is Nav 3.0, can be downloaded from here:
Nav30.zip (3.0 release version, dated Mar 11, 2000)
NavFMaps.zip or (alternate site 1) or (alternate site 2)
The Nav30 package contains Nav and the "simple" maps package (1.6 Meg).

The NavFMaps package is a set of optional high resolution "fancy" (big, slow) maps based on the public domain CIA world fact book data. The set is 7.9 Meg.

Nav is Open Source ("free") software released under the terms of the GNU GPL. This means that anyone can download and run Nav without charge, and the source code is available for programmers to use to write more GPL software (but you are not allowed to use the source code for any other kind of software):

Ignacio Hernández-Ros has been releasing the Nav 2.x series, and has updated FltRec.dll to work with FS2000. You will need at least version 7.0.1 of FltRec.dll to be compatible with both FS2000 and Nav.

Dave Morris has created a nice tutorial that describes setting up Nav and using it to create a flight plan for Radar Contact. Dave is also providing a place to download site some of the files available here. You might want to check out his virtual airline Orange Air

Nav's link functions require Adam Szofran's Fs6ipc.dll for interprocess communication (or Peter L. Dowson's fsuipc.dll), and Adam's FltRec program is needed if you want to record your ground track and display it in Nav. Recent versions of Nav come with a version of Fs6ipc.dll, but you might want to check Adam's web page for newer releases.
---
Comments? Suggestions? Questions?
Contact Ted Wright nav@consequential.org